Video Menu
The commands in this menu are used to create videos of the animation in the Structure window, with and without the Work Area included.
Each video is a recording of animation frames in the Structure window during shape animation

Each video is saved as a Microsoft WMV file

See the Videos tab in the File | Structure Options section for details on Quality and Frames per Second.
Structure Video
This command records the current animation in the Structure window.  When this command is executed,
The Windows File Save dialog box will open, requiring you to choose a name and place to save the video file after it is made

Next, the Make Video dialog box will open, as shown below
Use Window Width and Height
If checked, the video will be the size of the graphics area, either the Structure window or the Work Area

If un-checked the Width and Height can be entered into their respective boxes
Stop After Full Cycles of Animation
If checked, video recording will stop after (N) animation cycles are completed

Enter the number of cycles (N) into the box on the same line
Restart Dwell Cycle
While a video is being recorded, you can change the 3D View Rotation, Zoom Zooming enlarges the display of the model in a Structure window, or the graphics along the X-axis in a Data Block or Acquisition window. A Zoom is initiated by executing Display | Zoom, or by clicking in the graphics area and spinning the mouse wheel., Pan, display Points, Lines, Surfaces, etc.
Press the Start button to start making a video

Press the Stop button to finish making the video, and open it in the Windows Media player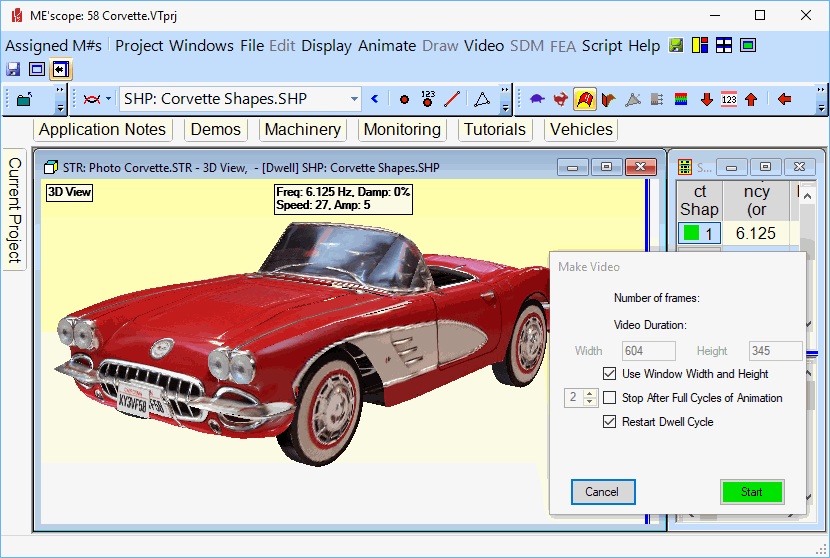 Make Video Dialog Box.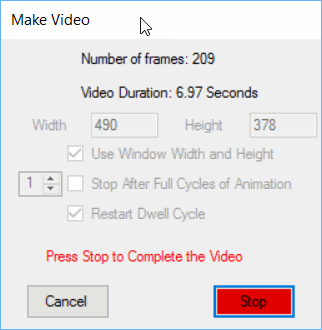 Make Video Dialog During Recording.
Work Area Video
This command records the current animation in the Structure window together with all of the graphics in the Work Area.