Editing Point Coordinates
Point coordinates can be edited in two ways;
Select the Points to be edited, execute Draw| Drag Objects, and drag the selected Points in a View. (See Draw| Drag Objects for details.)

Or edit the Point coordinates in the Points spreadsheet.
Editing Spreadsheet Coordinates
Select the Points with coordinates to be edited.

Double click on the appropriate X coord, Y coord or Z coord column heading to edit the coordinates of the selected Points.

In the dialog box that opens, choose Replace with, Add to or Scale by.

Enter the new coordinate value into the box, and click on OK.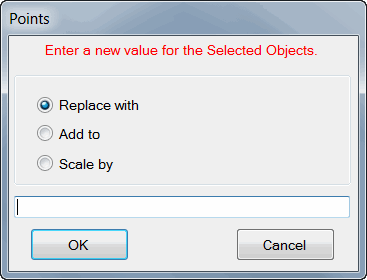 Edit Point Coordinates Dialog Box.