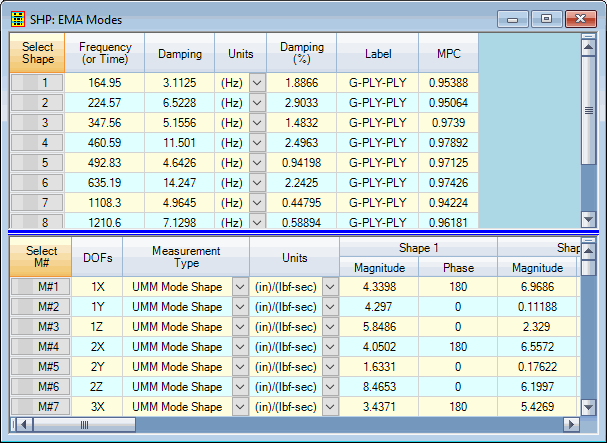 Shape Table Window.
Only the commands for a VT-620  Visual ODS Package are documented in this chapter. Additional commands authorized by ME'scope Options are documented in separate chapters.
Check Help | About to verify the Options authorized by your ME'scope license.
This chapter contains descriptions of the basic commands in the Shape Table window. The Shape Table window is used for;
Viewing, editing, and performing math operations on operating deflection shapes (ODS's) , mode shapes, acoustic shapes, and engineering data shapes.

Animating shapes on a 3D model in a connected Structure window.
Shapes & M#s Spreadsheets
The Shape Table window is divided into two spreadsheets, separated by a blue splitter bar.
The Shapes spreadsheet is (above or left of) the blue splitter bar.

The M#s spreadsheet is (below or right of) of the blue splitter bar.

Drag the blue splitter bar in the window to make either spreadsheet larger.

Execute Display | Split to change the spreadsheet layout between upper-lower and side-by-side.
Menu Commands
Menu command descriptions are ordered in this chapter by command menu (from left to right), and then by the commands in each menu (from top to bottom).