Display | Shape M#s Menu
These commands display columns of shape data in he M#s spreadsheet in several different formats.
Each Shape (number) column contains all of the shape components (M# M# is an abbreviation for Measurement Number. Each measurement function in a Data Block or Acquisition window has a unique M#. Also, each shape component in a Shape Table window has a unique M#. Each M# in the connected Animation Source must be Assigned to a DOF of the structure model in order to display shapes from the Source in animation. Each un-measured DOF on the model is animated by creating an M# Interpolation using nearby Measured and Fixed DOFs.s) of one shape.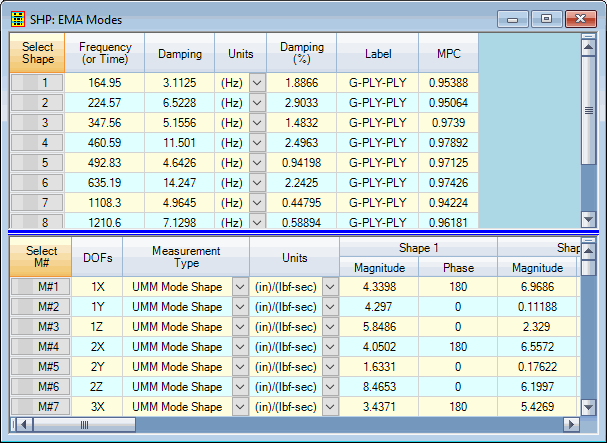 Shape Table Window.
Magnitude / Phase
Magnitude (dB) / Phase
Magnitude
Magnitude dB
Phase
Real / Imaginary
Real
Imaginary