File | Import | Data Block
Imports time or frequency domain measurements from third party data files.
When this command is executed, the Windows Open dialog box will open, as shown below.
Choose the appropriate external file from the File Name & Extension list on the lower right of the dialog box.
The File Name & Extension list in the Windows File dialog box contains the names and extensions of all of the third party file formats that can be imported into a Data Block (BLK) file.
Select a file to import, and click on Open to import it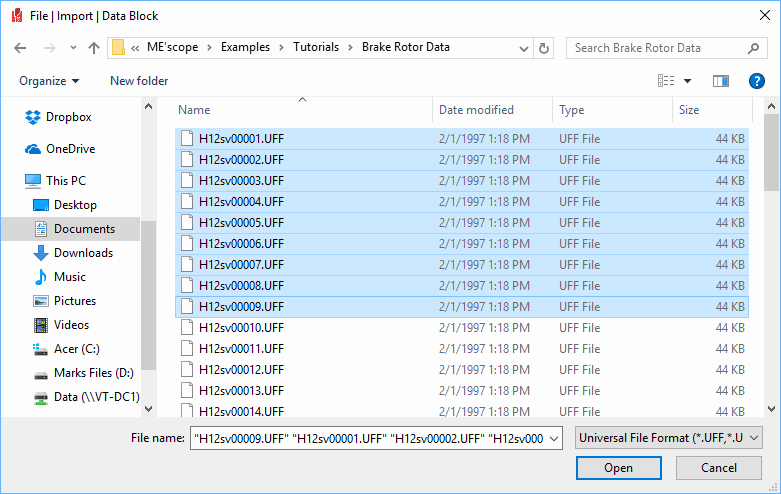 Import Data Block Dialog Box Showing Multiple Files Selected.
Selecting Multiple Files
Some analyzers and data acquisition systems save only one measurement per disk file.
Hold down the Shift to select a range of files listed in the Windows Open dialog box.

Hold down the Ctrl key to select individual files listed in the Windows Open dialog box.

Click on the Open button to open the files.
Measurement Selection Dialog Box
If the selected files contain different types of measurements, the Measurement Selection dialog box will open.
Select the time domain or frequency domain measurements tab, if both are available in the imported files.

Press buttons in the Translate column to select individual measurements.

Click on the Translate button to translate the selected files.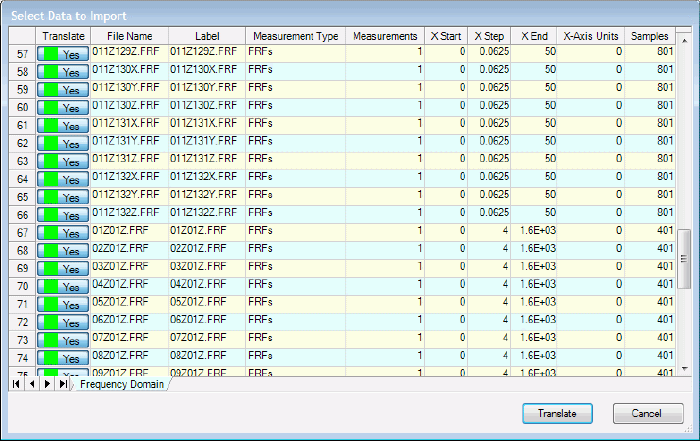 Measurement Selection Dialog Box.
Translate Files Dialog Box
Each measurement listed in this dialog box is imported into a Trace and put into a Data Block file One or more measurements with a common time or frequency axis. Time domain measurements are real valued. Frequency domain measurements are complex valued. Each measurement has a unique measurement number (M#). M#s are displayed in the first column of the M#s spreadsheet in a Data Block window. M#s are used by the Animation equations at each Point for displaying M# data at the current cursor position..
Change X Axis Button

Allows you to edit the time or frequency axis parameters (Block Size The number of samples of data in each M# of a Data Block or Acquisition window. The current Block Size can be viewed and edited in the File | Data Block Properties dialog box. Increasing the Block Size appends zero valued samples to each M#. Decreasing the Block Size removes samples from the higher frequency or time values of each M#., Start Value, Resolution, End Value).

Load Previous Values Button

Loads previously used spreadsheet values into the spreadsheet.

This is useful for restoring previously used DOFs, Units, etc.

Use File Name as DOFs Button

Uses the imported data file name as the DOFs on each measurement.

DOFs are listed in the DOFs column of the spreadsheet.

Following are examples of file names that can be interpreted as Trace DOFs.

Roving DOF DOF is an acronym for degree-of-freedom. A DOF includes a Point number & direction. If each measurement (M#) in a Data Block, Shape Table or Acquisition window has a DOF defined for it, the DOF can be used to create Animation equations by assigning M#s to matching Points & directions on the model in the connected Structure window. Each Point number should correspond to a numbered Point on the model. Each DOF direction should correspond to a Measurement Axis direction at the Point on the model. Scalar data has no direction associated with it.: 1Z.Ext

Roving & Reference DOFs: 1Z2Z.ext, 1Z_2Z.Ext

Reference DOF: _2Z.Ext

Measurement Set: 1Z_2Z[1].Ext, _2Z[1].Ext

Negative Direction: -1Z.Ext, m1Z.Ext

Rotational DOF: 1rX.Ext or 1U.Ext, 1rY.Ext or 1V.Ext, 1rZ.Ext or 1W.Ext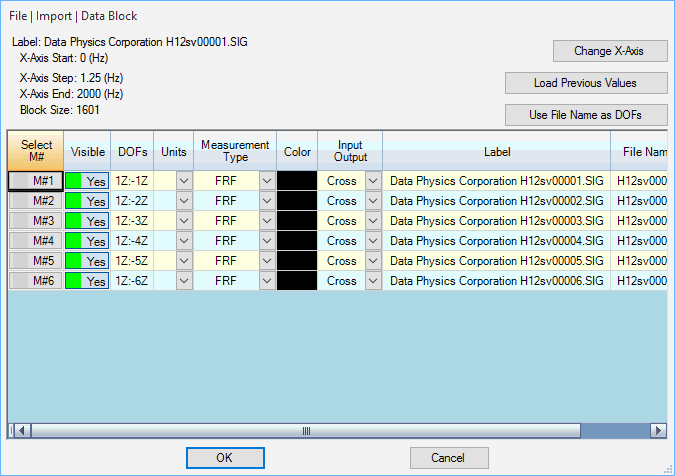 Translate Files Dialog Box.