File | Export Data Block
Exports the measurement data in a Data Block to a disk file in an external file format.  When this command is executed, the Windows File Save As dialog box is opened,
Choose an export file format from the Save as type list.

Choose a disk folder for saving the file, or create a new one.

Type the desired file name into the File name box.

Click on the Save button.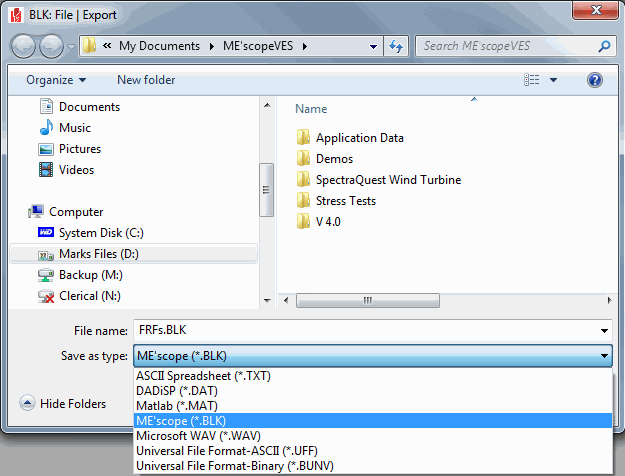 Data Block File Export Dialog Box.
UFF File Export
The table below shows the Data Set Types that are created when a Data Block is exported to a disk file in UFF UFF is an acronym for Universal File Format. UFF is a disk file format used for exchanging data between different structural testing & analysis systems. Structure models, mode shapes, ODS's, and time or frequency domain measurements can be imported & exported using UFF files. Typical UFF file name extensions are .UFF, .UNV and .ASC. format.
| | | |
| --- | --- | --- |
| ME'scopeVES File | Type of Data | UFF Data Type |
| Structure (STR) | Structure Points and Lines | 15 & 82 |
| Shape Table (SHP) | Shapes | 55 |
| Data Block (BLK) | Time Waveforms, FRFs, Transmissibility's, Auto & Cross Spectra, Fourier Spectra. | 58 |