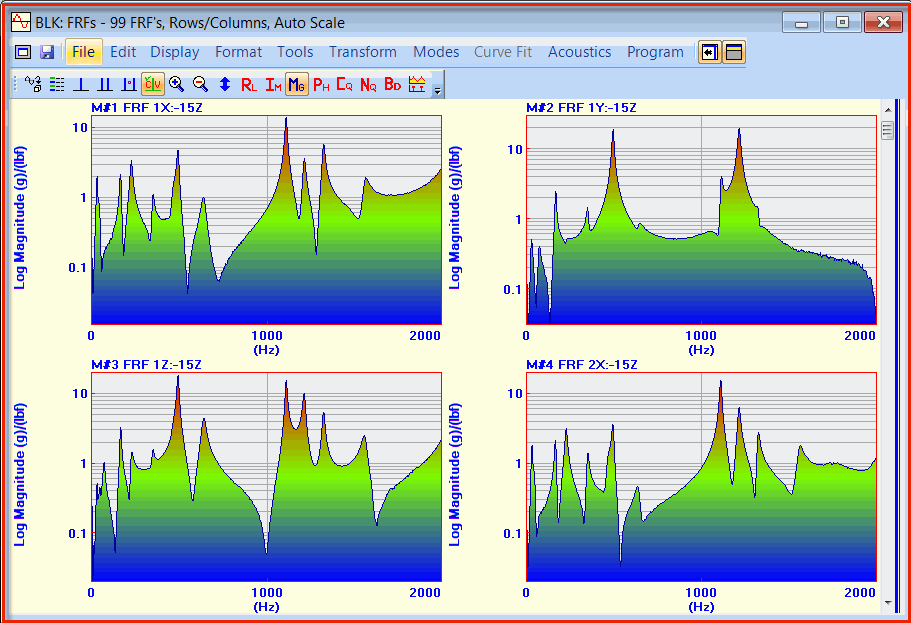 Data Block Window showing log magnitude of 4 FRFs.
Only the commands for a VT-620  Visual ODS Package are documented in this chapter. Additional commands authorized by ME'scope Options are documented in separate chapters.
Check Help | About to verify the Options authorized by your ME'scope license..
This chapter contains descriptions of the basic commands in the Data Block window. A Data Block contains one or more M#s of measurement data, all sharing a common X-axis.  Each Data Block can contain either sampled time waveforms or calculated frequency functions. The Data Block window is used for;
Displaying multiple time waveforms or frequency domain functions, and performing operations on them.

Displaying Operating Deflection Shape (ODS ODS is an acronym for Operating Deflection Shape. An ODS is the deformation of a structure at two or more locations and/or directions due to its own operational forces and/or other applied forces. A time domain ODS characterizes the structural deformation at a specific time. A frequency domain ODS characterizes the structural deformation at a specific frequency. An ODS is a summation of contributions of the mode shapes of all resonances being excited by the specific operating condition.) data on a 3D model in a connected Structure window from the cursor position in the Data Block.

Curve fitting the M# data to obtain the experimental modal parameters of a structure,
Graphics Area & M#s Spreadsheet
The Data Block window contains graphics on the left and a M#s spreadsheet on the right, separated by a vertical blue splitter bar.
Each measurement in a Data Block has a unique M#

Drag the vertical blue splitter bar horizontally in the window to make the graphics or the M#s spreadsheet larger.

Each M# in a Data Block is plotted in the graphics area on the left.

The properties of each M# are listed in a row of the M# spreadsheet on the right.
Menu Commands
Menu command descriptions in this chapter are ordered by command menu (from left to right), and then by the commands in each menu (from top to bottom).