Mode Shape Demo
Hover the mouse pointer over the Demos tab to display the Demos fly out panel.

Make sure the Help | Show Tool Tips is checked.

Move the mouse pointer to display the I-Beam.VTprj Project name, and double click to open the Project.

Execute Draw | Animate Shapes in the Structure (STR) window.
Sweep Animation will begin in the Structure window displaying mode shapes from a Shape Table.  Notice that one of the Select Shape buttons is depressed (a green Select Shape  button) in the (upper) Shapes spreadsheet in the Shape Table window on the right.  This is the mode shape currently being displayed in animation on the structure model.  The currently displayed mode shape will automatically increment because Sweep Animation Sweep Animation is one of the three types of shape animation in a Structure window. During Sweep animation from a Data Block or Acquisition window, the cursor is moved through the graph from left to right, and the data at each cursor position is displayed as a shape on the model. During Sweep animation from a Shape Table, each shape is displayed in succession using Dwell Animation and the number of dwell cycles from the Animation tab in the File | Shape Table Options box. is enabled.
Execute Animate | Method | Sine Dwell to change the animation from Sweep to Sine Dwell.

Click on a different Select Shape button in the Shapes spreadsheet to display its shape in animation.
Contour Colors
Many display functions in the Structure window toggle between checked (meaning they are enabled) and un-checked (meaning they are disabled).  Contour colors can be displayed on structure model surfaces to show areas of high versus low shape values. The colors used for the color contour map are specified in the File | Options box of the Animation Source Any Data Block, Shape Table, or Acquisition window that is open in the Work Area is an Animation Source. The currently connected Animation Source is displayed in the Animation Source list on the Toolbar in the Structure window. During animation, data from each M# in the current Animation Source is animated using the Animation equations for each Point on the structure model. window, in this case the Shape Table window.
Execute Animate | Contours | Contour Colors  in the Structure window to display contour colors on the surfaces of the structure model.

Execute Animate | Contours | Contour Colors  again to disable the contour fill display.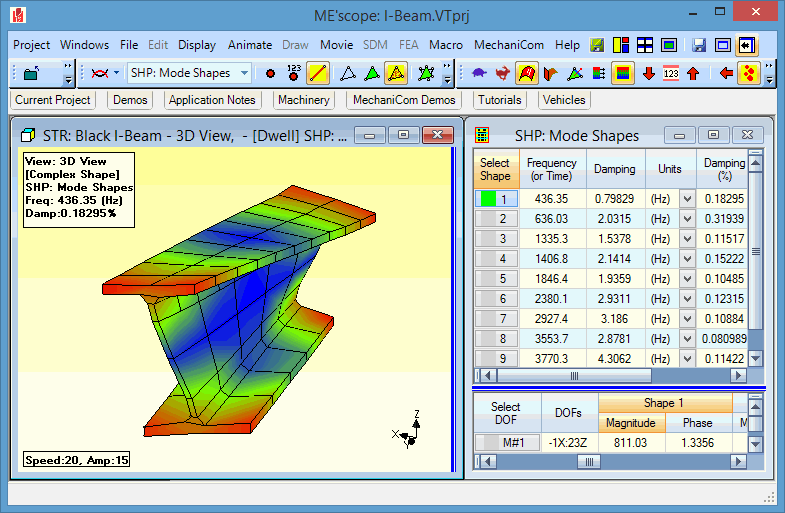 Mode Shape Animation Showing Contours.