Creating an Acoustic Surface
NOTE:  The commands in this tutorial are only available if the VES-3600 Advanced Signal Processing option is authorized by your ME'scope license. Check Help | About to verify authorization of this option.
An Acoustic Surface A special type of SubStructure represented by a grid of acoustic measurement Points. Each measurement Point has a surrounding area and surface normal. Acoustic Surfaces can be created with the Drawing Assistant in ME'scope. is a special type of SubStructure A Substructure is a collection of Points, Lines, Surfaces, and FEA Objects. Substructures can be selected, moved, cut, copied & pasted like the other drawing Objects. Substructure properties are displayed in the Substructures spreadsheet. The Drawing Assistant is used to create structure models by added Substructures from the Substructure Library to the model. The FEA Assistant is used to add FEA Objects to a structure model. that is used to display acoustic data.  Acoustic data is typically taken on a grid of spatial Points in the vicinity of one or more noise sources.  SPL SPL is an acronym for Sound Pressure Level. An SPL is a measure of the RMS sound pressure relative to a reference value. It is measured in logarithmic units of decibels (dB) above a standard reference level. A common reference level used is 20 μPa RMS, which is considered the threshold of human hearing., Sound Power & Acoustic Intensity data is typically displayed on an Acoustic Surface.  Acoustic surfaces are easily created by using the Drawing Assistant A set of tabs in a Structure window that are used for drawing and modifying structure models. The Drawing Assistant tabs are displayed above the SubStructure spreadsheet by executing Draw | Drawing Assistant. in the Structure window.
Each measurement Point on an acoustic surface is surrounded by an area that is automatically calculated when the surface is generated.

A normal vector (at right angles) to the surface is also calculated for each measurement Point.

The surrounding area and normal of a Point are used to calculate Sound Power through the surface from Intensity data.
Rectangular Surface
Execute Project | New Project to start a new Project.

Execute File | New | Structure to create a new Structure window.

Execute File | Structure Options in the Structure window.  

On the Units tab in the File | Structure Options box, choose Meters from the Length Units list, and click on OK.

Execute Draw | Drawing Assistant in the Structure window.

On the SubStructure tab, double click on the Editable Acoustic Surface.

On the Dimensions tab, enter the following changes.
Width: 1 m
Points: 5
Height: 1 m
Points: 6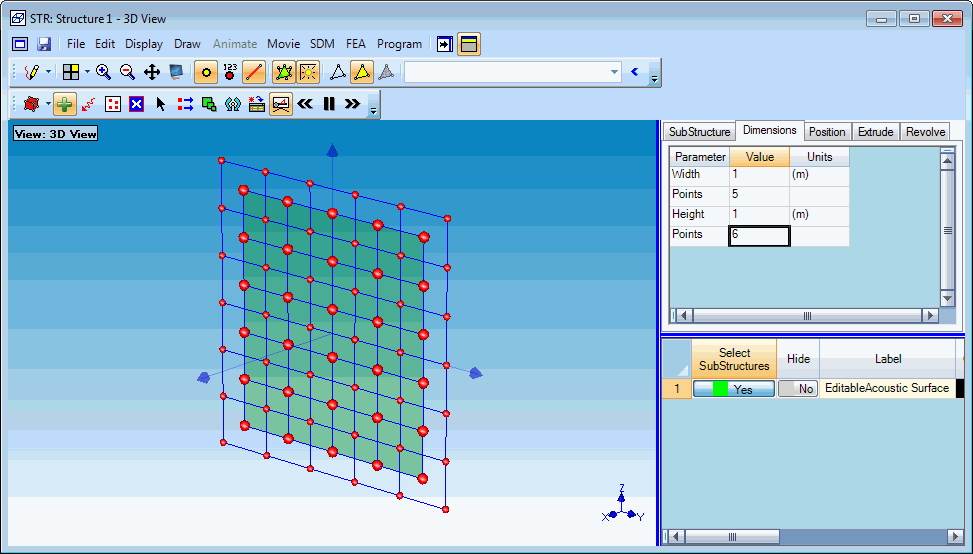 5 by 6 Meter Acoustic Surface.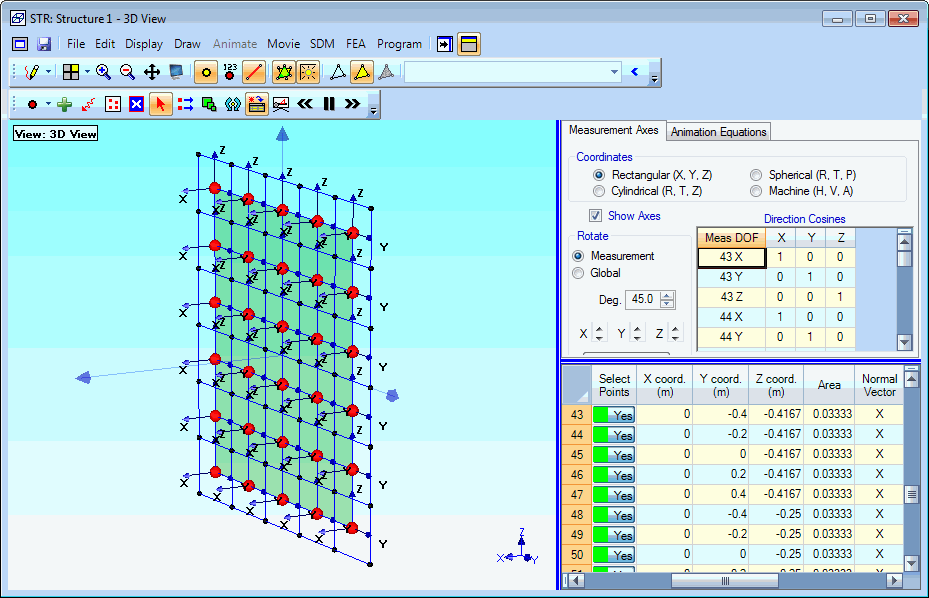 Acoustic Surface Showing Areas & Normals.
Each of the 30 bold measurement Points is surrounded by 4 Points which define its acoustic area.  Acoustic areas & normals are calculated when an acoustic surface is created in the Drawing Assistant.  Acoustic areas & normals  are listed in the Points spreadsheet, and must be edited if the Point coordinates are changed.