Acoustic Surfaces
An Acoustic Surface is a special type of Substructure that is used to display acoustic data in a Structure window.  Acoustic data is typically taken on a grid of spatial Points in the vicinity of one or more noise sources.
SPL, Sound Power & Acoustic Intensity data is typically displayed on an Acoustic Surface.

Acoustic surfaces are easily created by using the Drawing Assistant A set of tabs in a Structure window that are used for drawing and modifying structure models. The Drawing Assistant tabs are displayed above the SubStructure spreadsheet by executing Draw | Drawing Assistant. in the Structure window.

Each measurement Point on an acoustic surface is surrounded by an area that is determined when the surface is created.
The Acoustic Area and Acoustic Normal of a Point are used to calculate Sound Power through the surface from Intensity data.
Acoustic Surface area is displayed in the Acoustic Area column of the Points spreadsheet.

The surface normal vector of the surface (in the Global X, Y, or Z direction) is also defined for each measurement Point.

The global surface normal direction is displayed in the Acoustic Normal column in the Points spreadsheet.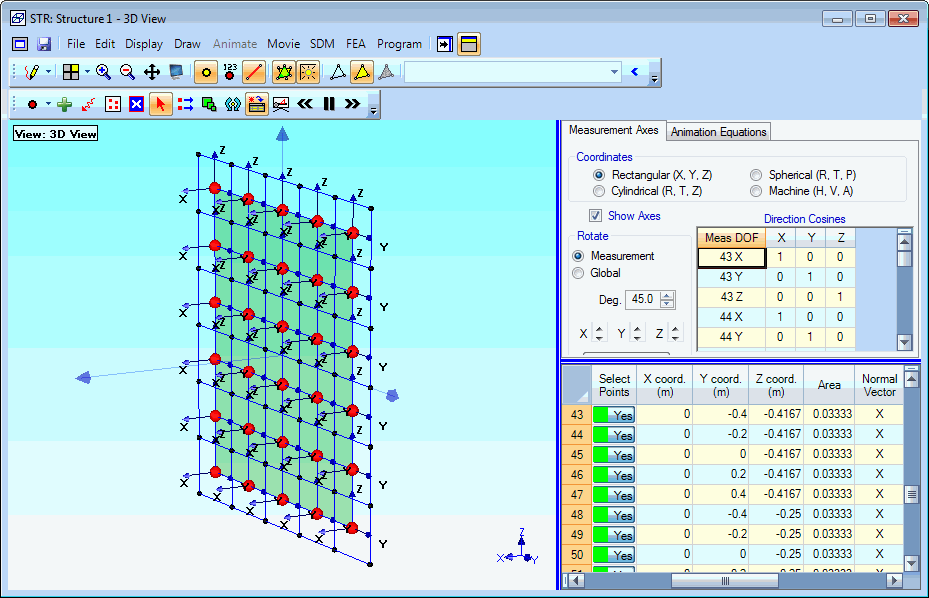 Acoustic Surface Showing Areas & Normals.
Each of the bold measurement Points is surrounded by 4 Points which define its acoustic area.  Acoustic areas & normals are calculated when an acoustic surface is created in the Drawing Assistant.
Display | Display Objects | Points | Acoustic Normals
Displays the acoustic normal at each Point.