Mode Shape Animation
Modes of vibration are used to characterize resonant vibration in machinery and structures.
All structures have specific natural frequencies at which they readily absorb energy

When a resonance is excited, it can cause excessive noise and vibration, resulting in premature structural failures

Each resonance, or mode of vibration, is defined by its natural frequency, damping, and mode shape

At or near a modal frequency, the response of a structure is usually dominated by the resonance

A frequency-based ODS will often look like the mode shape of a nearby resonance, if the resonant response dominates the ODS
However, mode shapes, along with their frequency and damping values, are more accurately obtained by curve fitting a set of FRF measurements, or a set of Fourier spectra, Cross spectra or ODS FRFs calculated from operating data.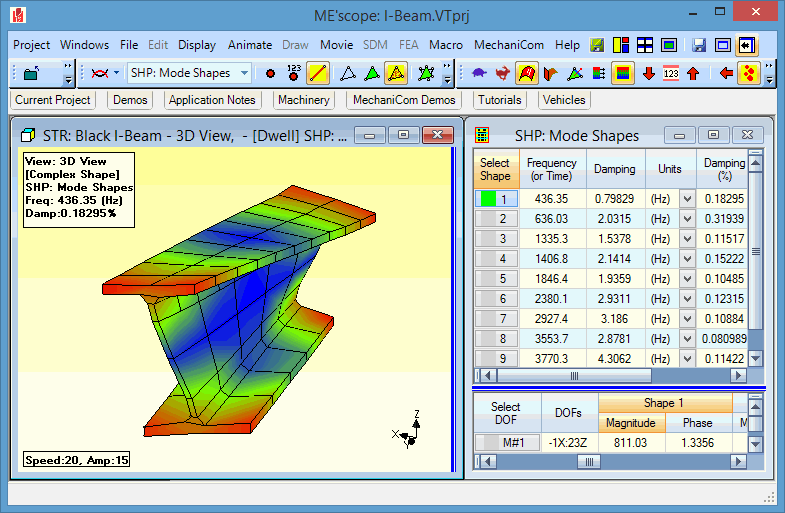 Sine Dwell Sine Dwell in one of the three types of shape animation in a Structure window. During Sine Dwell animation, the displayed shape is animated by multiplying it by sine wave values as a unit circle is tranversed in equal increments from 0 to 360 degrees. . Animation of a Mode Shape Modes are used to characterize resonant vibration in structures. Each mode has a natural frequency, damping value, and a mode shape. The mode shape is a standing wave deformation of the structure at its natural (resonant or modal) frequency. An ODS is a summation of contributions fof all of the mode shapes of the modes being excited in a structure..