Modal Parameters Spreadsheet
This spreadsheet is where all modal parameter estimates are displayed.
Each row of the spreadsheet contains modal parameter estimates for one mode.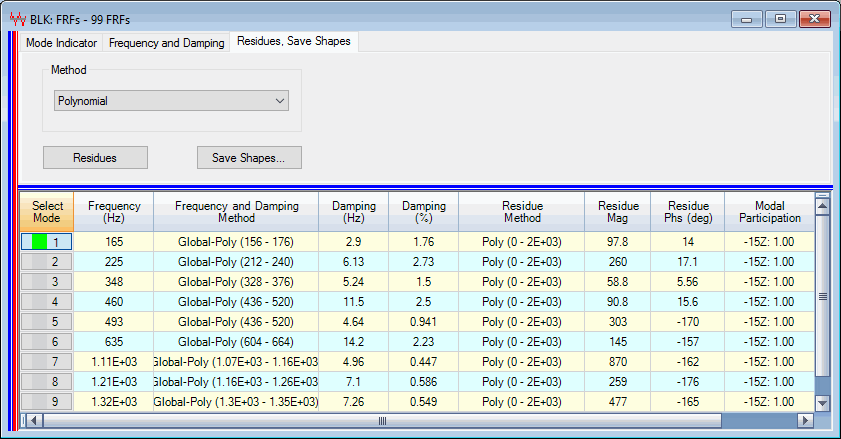 Modal Parameters Spreadsheet
Select Mode Column
Click on the Select Mode button to toggle the mode selection.

Double click on the Select Mode column heading to toggle the selection of all modes.

Select  a mode, hold down the Shift key, and select the second mode to select a range of modes.
Frequency & Damping Columns
Modal frequency is always listed as the damped natural frequency.

The damped natural frequency is approximately equal to the peak frequency of the resonance peak in the FRF An FRF (Frequency Response Function) is a cross-channel frequency domain function that defines the dynamic properties of a structure between an excitation Force and the Response caused by that force. An FRF is defined as the ratio (Response DFT / Force DFT). The FRF is a special case of a Transfer Function, where the response is the numerator (Output) and the force is the denominator (Input). data.

Modal damping can be listed is two columns, either as the percent of critical damping (in %) or the half power point damping (in Hz).
Residue Magnitude & Phase Columns
The residue for each mode is listed as magnitude & phase.

The magnitude units are the units of the FRF times (radians per second).  For example, if the FRF units are (g/ N), the residue units are (g/ N-sec)

Phase units are in degrees.
Methods Column
The curve fitting methods used to estimate the parameters of each mode are listed in the Frequency & Damping Method column, and the Residues Method column.  The following abbreviations are used for the curve fitting methods in the Basic Modal Analysis option,
"Local-Poly"  Local Polynomial

"Global-Poly"  Global Polynomial

"Peak"  Peak method

"Poly"  Polynomial
Cursor Columns
These two columns contain the Band cursor positions that were used for Frequency & Damping curve fitting and for Residue A Residue is one of the three modal parameters (frequency & damping are the other two) obtained during FRF-based curve fitting. A Residue is the numerator term in the partial fraction expansion of the FRFcurve fitting model. A Residue is also referred to as the "strength" of the mode. Residue units are the FRF engineering units multiplied by Hz (or radians per second). Typical Residue units are g's/N-sec. curve fitting.
Showing & Hiding Spreadsheet Columns
All columns can be shown or hidden (except the Select column).
The File | Data Block Options box will open displaying the Show/Hide tab.
Reset Spreadsheet Column Widths
Editing Cells
Select the text in one or more spreadsheet cells.

Hold down the Ctrl key and,

Press the X key to cut the selected text to the Clipboard.

Press the C key to copy the selected text to the Clipboard.

Press the V key to paste text from the Clipboard into the selected cells.