Introduction
 To enlarge this text, click on it, hold down the Ctrl key and spin the mouse wheel.
ME'scope is a series of software packages and options that makes it easier for you to acquire, analyze, observe and document noise & vibration in mechanical structures and operating machinery. You can use ME'scope to care out a wide variety of engineering tasks.
Vibration & Acoustic Data Acquisition

Vibration & Acoustic Signal Processing

Operating Deflection Shape (ODS ODS is an acronym for Operating Deflection Shape. An ODS is the deformation of a structure at two or more locations and/or directions due to its own operational forces and/or other applied forces. A time domain ODS characterizes the structural deformation at a specific time. A frequency domain ODS characterizes the structural deformation at a specific frequency. An ODS is a summation of contributions of the mode shapes of all resonances being excited by the specific operating condition.) Analysis

Experimental Modal Analysis (EMA EMA is an acronym for Experimental Modal Analysis. During an EMA, the test article is artificially excited with either an impactor, or using one or more shakers. The excitation force(s) and one or more responses caused by the force(s) are simultaneously measured, and a set of FRFs is calculated The FRFs are then curve fit to obtain experimental modal parameters for the test article.)

Operational Modal Analysis (OMA OMA is an acronym for Operational Modal Analysis. An OMA is performed when the excitation forces are not or cannot be measured, and hence FRFs cannot be calculated. Cross spectra or ODS FRFs are calculated instead of FRFs, and are curve fit to extract operating mode shapes.)

Vibro-Acoustic Analysis

Multi-Input Multi-Output (MIMO) Modeling & Simulation

Structural Dynamics Modification (SDM SDM is an acronym for Structural Dynamics Modification. SDM is an algorithm that uses the modes of an unmodified structure together with FEA Objects that model structural modifications, and calculates the modes of the modified structure. SDM is very fast and provides useful results even when a modal model has only a few modes in it.)

Finite Element Analysis (FEA FEA is an acronym for Finite Element Analysis. FEA involves creating an FEA model by adding FEA elements (called FEA Objects in ME'scope) to a structure model. The FEA model can be solved for its FEA modes, and also used for other analyses in ME'scope.)

FEA Model Updating
ME'scope can also be used as the "heart" of an acquisition & post-processing system for remotely monitoring, analyzing, and diagnosing failures in operating machinery or in structures such as bridges and wind turbines. When used together with its archival database and operator Console graphics software, ME'scope can be used for,
Machinery Health Monitoring (MHM)

Structural Health Monitoring (SHM)

Environmental Monitoring

Qualification Testing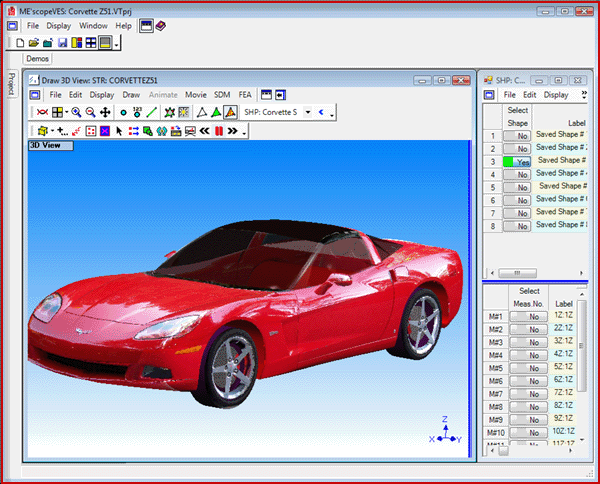 Animation of a Photo Realistic Model A Photo Realistic Model is a structure model that has digital photographs attached to its surfaces. A Photo Realistic Model is created using third party software, and is then importing into ME'scope using the .OBJ file format..
Animated Shape Display
All ME'scope packages contain a state-of-the-art interactive animated display of spatially defined shapes on a 3D model of a machine or structure.  Shape data such as an operating deflection shape (ODS), mode shape, acoustic intensity shape, or sound power through a surface can be displayed in animation on a photo realistic model, like the one shown above.  Displaying shapes in animation makes it easier to visualize and analyze structural noise & vibration problems.
Observing Vibration in Slow Motion
By animating the spatial response of a structure in slow motion, you can view overall motion of a structure, and the motion of one part relative to another.  Locations of excessive vibration or high noise levels are easily identified.
With interactive sweep animation, you can sweep through a set of time histories and observe the recorded response of a structure, whether it is sinusoidal, random, transient, linear or non-linear, stationary or non-stationary.

With interactive dwell animation, you can dwell at a specific time or frequency in a set of responses, and display shapes using either sine dwell or stationary dwell.