Help Menu
Help | Commands Help
Opens the Commands Help window.
The Help window can be left open during other operations in ME'scopeVES.
Help | Show Tool Tips
If checked, hover the mouse pointer over a button on a Toolbar to display a brief description (Tool Tip A Tool Tip is a brief description of each button (or Tool) on a Toolbar. If Help | Show Tool Tips is checked, a Tool Tip will be displayed when the mouse pointer is hovered over a Tool.) of the command.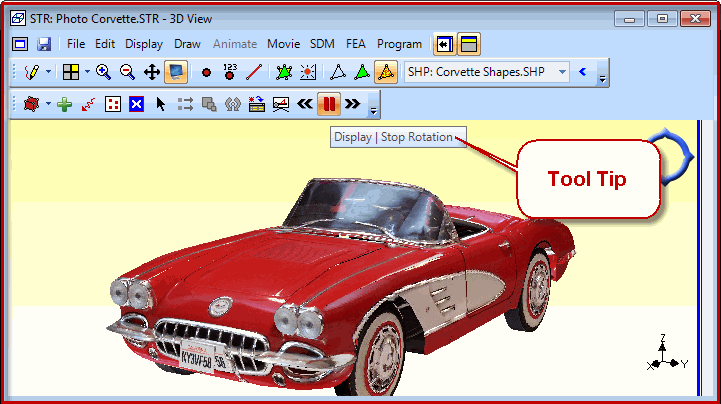 ME'scope Window Showing a Tool Tip.
Help | About
Opens the ME'scope About box, as shown below.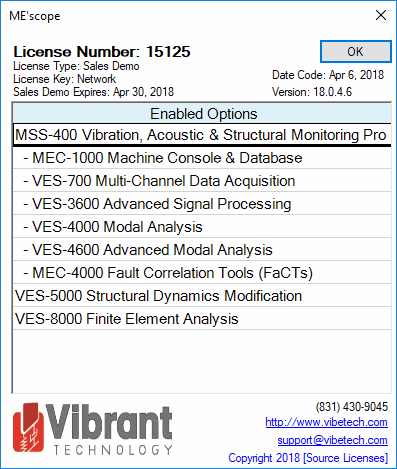 About Box.
License Number
If your software uses a hardware Security Key, your software license must match the serial number on your Security Key in order to authorize ME'scope for operation.
License Type
The type of license for your software (Single User, Educational, Network, Monthly, or 12 Month)
License Key
SMS Expiration
The date after which you can no longer use a newer date code of software from the Vibrant Internet site.

Your current date code of software will operate indefinitely, unless you have a Monthly or 12 Month License.
Annual Software Maintenance & Support (SMS) renewal is strongly recommended to keep your software current with the latest improvements.
Version
The Version number is a unique number assigned to the software currently installed on your computer.

The Version number is incremented each time a new Date Code of software is released.
Date Code
Options List