Transform | MIMO Sinusoidal ODS
Calculates a single frequency ODS due to multiple sinusoidal excitation forces.
The ODS is calculated by multiplying FRFs by the Fourier spectra of excitation forces at a single frequency.
Forces can be applied at any Reference DOF of the FRFs

Each force is defined by its magnitude & phase, and the Reference DOF at which it is applied. to the structure

The DOFs of the Sinusoidal ODS are determined from the Roving DOFs of the FRFs.

When this command is executed, the following dialog box is opened.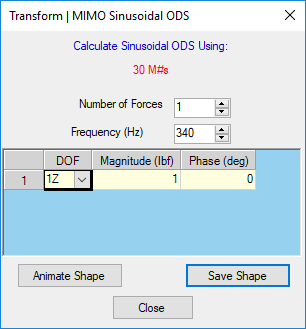 Sinusoidal ODS From a Data Block.
Animating the Sinusoidal ODS
The M# Links in the connected Structure must be compatible with the M#s of the Sinusoidal ODS in order to display it in animation.
To insure that the Sinusoidal ODS will animate correctly,
Press Save Shape to save the ODS into a Shape Table.

Execute Animate | Create M# Links from the Shape Table to create new Animation Equations in the connected Structure window.