Frequency & Damping Tab
This tab contains Global and Local curve fitting methods for estimating modal frequency & damping.
When the Frequency & Damping button is pressed, the current Method will find estimates for the number of modes in the Modes box

All modal parameter estimates are added to the Modal Parameters spreadsheet in the lower right corner of the window

The current Method is used to curve fit all (or selected) FRFs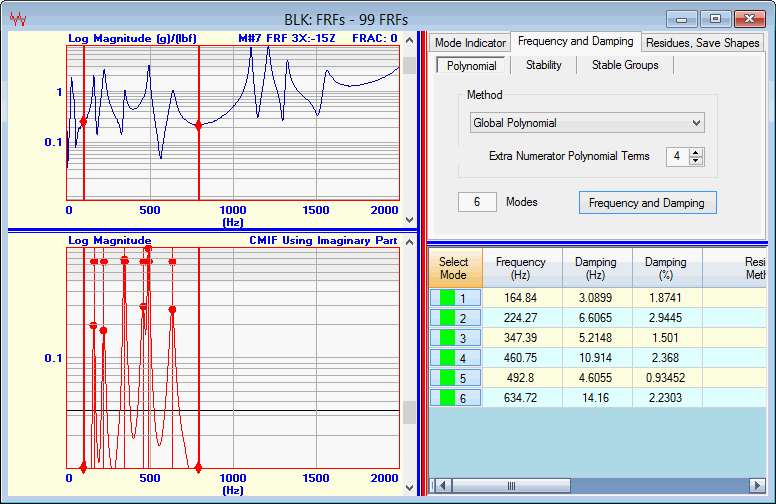 Frequency & Damping Tab Showing Frequency & Damping Estimates for Six Modes.
Global Polynomial Method
The Global Polynomial method estimates one global value of frequency & damping for each mode.
Local Polynomial Method
The Local Polynomial method estimates one local value of frequency & damping for each mode and for each FRF.
Extra Numerator Polynomial Terms
The residual effects of out-of-band modes are compensated for by using additional numerator polynomial terms with the Polynomial method.
Both the Frequency & Damping and Residue curve fitting methods use the extra polynomial terms to account for the residual effects of out-of-band modes.
The number of extra numerator polynomial terms can be user-specified between 0 & 10.
Four (4) extra terms is usually sufficient for most cases.
Vertical Frequency Lines
Each frequency estimate in the modal parameters spreadsheet is displayed as a blue vertical line on the Mode Indicator graph.
If a mode is selected, a red vertical line is displayed at the modal frequency on the Mode Indicator graph.

In the Band cursor is displayed, the modes in the band are selected.

Hold down the Alt key and,

Place the mouse pointer near a red vertical line to display its Frequency & Damping box.

Click to toggle on & off the display of the Frequency & Damping box.

When the band cursor is displayed, all modes with red vertical lines within the cursor band are selected in the Modal Parameters spreadsheet.
Horizontal Damping Lines
Each modal damping estimate is displayed as a horizontal line crossing the vertical frequency line at the top of the Mode Indicator graph.
The length of the Horizontal Line is 2s. s is called the half power point damping (in Hz), the 3 dB point damping, or the damping decay constant.
2s is approximately equal to the width of the resonance peak at 70.7 % of the FRF peak magnitude, or half of the peak magnitude squared.
2s is the width at the half power point of a resonance peak.
Zoom Zooming enlarges the display of the model in a Structure window, or the graphics along the X-axis in a Data Block or Acquisition window. A Zoom is initiated by executing Display | Zoom, or by clicking in the graphics area and spinning the mouse wheel. the display to display the damping lines more clearly.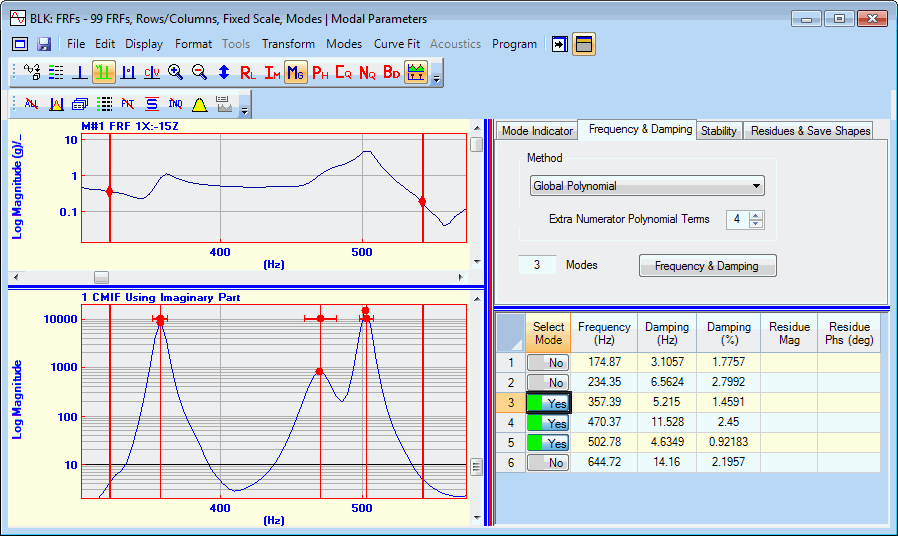 Zoomed Display Showing Half Power Point Damping Lines.